---
---
In the central Via Fratelli Head of the church of San Calogero is located, followed by a building (Palazzo D`Alessandro) once home of the original "hospital" of our country.
The church, also known as Santa María de agonizar (XVII sec.), Was in fact the support to the hospitals thanks to its Brotherhood (that already existed in 1580 and is characterized by a set that includes a red shirt and blue jacket) that He had taken the burden to patients; The Superior of the Brotherhood, together with two rectors of the pawnshop, has secured dell`ospedale l`amministrazione until 1818, when it was entrusted to the Mayor and two deputies elected by the settlers of the city.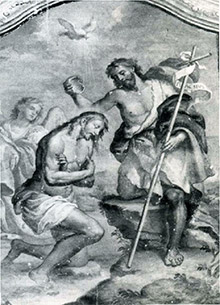 The entrance of the San Calogero (declared a National Monument church) is characterized by a portal surmounted by a niche containing the statue of the patron saint, and a scroll of plaque that reads: Morborum miraculis curator Calogerus public hospital jure Suam Aedem tenet adiunctam 1614 (S. Calogero, healer of diseases with miracles, rightly holds rightfully its joint church to the public hospital. 1614).
L`interno of the temple, which houses an elegant wood paneled roof, is characterized by frescoed walls by F. Ran-Dazzo (1695-1744), the famous monocle Nicosia student of Conca in Rome: the paintings depict scenes of ten `childhood of Christ (Baptism of Jesus, l`Annunciazione, the Visitation of Mary to Elizabeth, the Nativity, the Circumcision, l`Angelo ordering Joseph to flee, the Massacre of the Innocents, Jesus between Mary and St. Elizabeth and Jesus in the Temple) and eight medallions with figures of saints and hermits of Sante.
There are also located the wooden statues of San Calogero (the Volsi from Nicosia Stephen Li) and dell`Addolorata (Filippo Quattrocchi).
In the presbytery they are observed two paintings, one depicting l`Adorazione of the Magi (d`ignoto author) and the other an Epiphany (perhaps the same Randazzo). In the church they are also allocated various wooden sculptures of anonymous artists used for the preparation of the "Sepulchre" during Holy Week.